Women Building Better Communities
255 Bailey Avenue, Fort Worth, Texas

November 1, 2018
Company Information
About Us
Welcome from Junior League of Fort Worth (JLFW)! JLFW is an 89-year-old movement of likeminded women. For almost nine decades, we have provided our members with the highest level of training so they may serve the organization and our community.  JLFW's almost 2,000 members contribute over 50,000 volunteer hours annually to over 30 local agencies. Many of Fort Worth's treasures, such as Mayfest, Fort Worth Teen Court, The Parenting Center and The Women's Center were established or founded in part by JLFW.
We are committed to promoting voluntarism, developing the potential of women and improving the communities through the effective action and leadership of trained volunteers. In 2018-2019, JLFW will provide nine grants totaling $420,000 to local nonprofit organizations including Mothers' Milk Bank of North Texas, Fort Worth Dream Park, Women's Center, Make-A-Wish North Texas and Salvation Army.
In 2017-2018, JLFW raised over $1,000,000* for the first time through its three largest fundraisers, Christmas in Cowtown Holiday Gift Market, Grand Entry Gala, and Rodeo Program Sales, a collaboration with the Fort Worth Stock Show & Rodeo.
Our theme for the year is WONDER of Women. During the year, JLFW members will focus on empowering, mentoring and encouraging each other. We will continue to provide relevant training to our members, refine our Diversity & Inclusion program, and highlight the many contributions of our Sustainer members.
We welcome all women who value our Mission. We are committed to inclusive environments of diverse individuals, organizations and communities. If you are interested in joining the League or learning about how your organization may partner with JLFW to improve our community, I encourage you to explore our website.
Thank you for taking the time to learn more about JLFW!
Always,

Carrie R. Cappel
2018-2019 President
The Junior League of Fort Worth, Inc.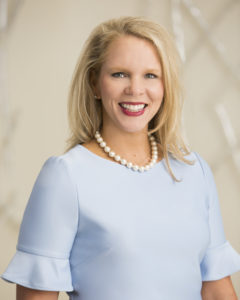 Current job openings at The Junior League of Fort Worth