PRODUCING MEANINGFUL RESULTS AND ACHIEVING SOCIAL ROI
CNM's heartbeat since the beginning has been to equip nonprofits with the knowledge and skills needed to be the best they can be. As community needs continue to grow, we have come to believe that all stakeholders, not just nonprofits, need to be involved if issues are to be addressed in a meaningful way. We broadened our mission to strengthen communities by partnering with corporations, foundations, government, as well as nonprofits, to focus on results.
To achieve social ROI, CNM provides strategic data expertise and leading-edge technology to nonprofits with the support of foundations and corporations. We also offer education and consulting services that give actionable, practical, and impactful guidance. At CNM, we are dedicated to smart management, measurable outcomes, and thriving communities.
Our customized approach, strategic management and data expertise, and leading-edge technology give the right mix of knowledge and insight to advance nonprofit missions and community impact. We help communities by helping nonprofits be their best – engaging them on every level, giving them the tools they need to succeed – and partnering with them and with businesses, foundations, and government entities in a way that produces meaningful results.
FORTRESS YOUTH DEVELOPMENT CENTER
"Early findings in our data have led us to be optimistic that children who go through our preschool program are more likely to have on-level 3rd grade reading metrics, which is a major indicator for lifelong success. Adding this data to the dashboard through CNM-pact will allow us to track these students as they progress through our program to indicate not only short-term outcomes, but to validate our hypothesis about long-term outcome."
Dani Bartells, Director of Programs and Impact
CNM-pact client, CNM Certified
Big brothers big sisters lone star
"As a person re-entering the nonprofit communal world, the Fundraising Certificate program gifted me the opportunity to relearn the key tools for success for my agency. After completing the program, I feel like a true fundraising professional."
Scott Price, Advancement Officer
Financial Certificate Graduate
A Team Well Equipped to Partner with Nonprofits of all Sizes and Causes
Our team has a proven track record of results across major industry sectors. With significant experience in management consulting, nonprofit operations, education, and technology, we are well equipped to serve as a partner to nonprofits of all sizes and causes.
CNM President and CEO, and Department Leaders
CNM Board of Directors and Advocacy Council
CNM's Board of Directors includes executives in both the public and private sectors. With expertise in finance, law, city management, social services, public affairs, human resources, and technology, these leaders are working together to help CNM fulfill its mission of strengthening communities.
Board Chair 
Partner, Assurance
EY
Vice Chair
Vice President, Public Affairs
Fidelity Investments
Vice Chair
Principal Consultant
Confident Technology Services, LLC
Secretary
Assistant City Manager
City of Fort Worth
VICE PRESIDENT, GOVERNMENTAL AND PUBLIC AFFAIRS
ATMOS ENERGY
Vice President
gw Holdings
Director, Cyber Security
KPMG
Principal
MM2 Public Relations
Vice President of Sales
Allied Electronics and Automation
Joel Allison
George Baldwin
Cindy Boyd
Gillian Breidenbach
Becky Bright
Sally Burt
Brent Christopher
Martha Crandell Coleman
Anne Crews
David Eason 
Gwen Echols 

Fran Eichorst

William E. Giron 
Gray "Tuck" Henry
Mimi Huey
Mitch Jericho 
Cindy Johnson 
Sandy Kautz 
Karen Kennedy 
Sylvia Sotelo Kidd 
Harold Kleinman
Cynthia Wilson Krause
Bill Lawrence
Chad Leopard
Sarah Losinger
Robert Meachum
Zem Neill
Judy Odom
Casey Oliver
John Paul
Dr. John Ellis Price
Alice Rodriguez

Leslie Sabbath
Ann Schooler
Andy Smith
Michelle Thomas
Roslyn Dawson Thompson
Carlela K. Vogel
Ava Washington
Libby Watson
Dan Weston
Bob Wright
Susan Wright
We are deeply appreciative of all our supporters. Because of their generosity, our services remain affordable to nonprofits who need our help.
Nonprofit Scholarship Funds
Our scholarship funds allow us to engage nonprofits on every level and give them the tools they need to succeed. Scholarships cover a portion of the cost of CNM Services, allowing nonprofits to receive support they might not otherwise be able to afford.
ATMOS ENERGY
SCHOLARHSIP FUND
$50,000 of scholarships to over 15 nonprofits
Funded by Atmos Energy
CNM BOARD
SCHOLARHSIP FUND
$25,000 of scholarships to over 10 nonprofits
Funded by Fidelity Investments, KPMG, Lennox International, Locke Lord, and Wells Fargo
THRIVING COMMUNITIES SCHOLARHSIP FUND
This fund is open for contributions
Funded by Frost Bank
2020 REVENUE BY STAKEHOLDERS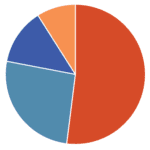 Nonprofits – 52%
Foundations – 26%
Corporations – 13%
Government – 9%

2020 EXPENSES BY ACTIVITY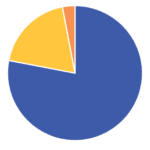 Program Services – 78%
Supporting Services – 19%
Fundraising – 3%
"Nonprofits want to, and are capable of, achieving greater community impact. But that requires funders to be more investment-oriented by directing their contributions to expertise and tools that will help nonprofits collect the right data and operate efficiently and effectively to achieve meaningful results."
"We consulted with one nonprofit that claimed its program was effective at reducing teen pregnancy. But once we implemented a plan for data collection and analysis, we found that while the teen pregnancy rate was lower overall, it was actually higher among Hispanic program participants. So, the funding alone had a mixed and limited return, and the data drove the nonprofit to a more effective solution."