Members, make sure you enter coupon code and click on apply coupon to get your discount.
Contact Membership@thecnm.org for the code if you don't know it!

North Texas Giving Day Post Training Intentional Stewardship: Transforming First-Time Givers into Loyal Donors
October 2, 2018 @ 9:00 am

-

12:00 pm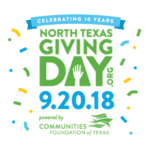 Among the many kernels of philanthropic wisdom is the statement:  A donor is not a donor until he or she has given twice.  A first-time gift to your organization from an individual you don't know is most likely a windfall, not a donation.  Organizations that benefit from first-time gifts, but fail to value relationships with the individuals behind the gifts will not be prepared to convert the giver into a donor.  Lost donors reflect lost potential – and we know it is far less expensive and time-consuming to convert and keep donors than to add new ones!
The good news is that stewarding donor relationships, converting first-time givers to donors and keeping donors isn't rocket science!  With a relationship-focused mind-set and plan you can build trust and realize the full potential engaged, loyal donors offer.
This workshop will explore how to create a plan focused on long-term relational rather than short-term transactional strategies.  In addition, highly meaningful and easy to implement strategies for donor segmentation and communication will be discussed.  As a result, you will be prepared to effectively nurture relationships with your first-time givers and existing donors, respond to their needs for transformational change and achieve the ultimate goal – donor loyalty.
Learning objectives:
Understand the importance of increasing donor loyalty
Identify the 7 Key Drivers of Donor Commitment
Explore 10 strategies for increasing donor loyalty
Course Outline:
Lifetime Value, Loyalty & Donor Retention
Transactional & Relationship Fundraising Practices
The Retention Story
7 Key Drivers of Donor Commitment
Loyalty Strategies
Resources
Program Level: All levels
Prerequisites: None, no advance preparation required
Instructional Method: Adult In-person classroom
Cost:  Free.  This training has been generously underwritten by the Communities Foundation of Texas.
_________________________________________________________________________
ABOUT THE INSTRUCTOR
With more than 30 years of service in the nonprofit sector, Carole Rylander maximizes mission impact by solving fund development, planning and governance challenges.   The Dallas Chapter of the Association of Fundraising Professionals named Carole the 2006 Outstanding Fundraising Executive.  In addition, she is a past president of the Chapter, has held accreditation as a Certified Fund Raising Executive (CFRE) since 1990 and is a BoardSource Certified Governance Trainer.
Related Events