ATTENTION – Members, make sure you enter your discount code and click "Apply" to activate the discount. CNM does not refund the difference if the discount code is not applied at the time of transaction. Contact expert@thecnm.org for the code if you do not know it!

Message Creation
September 15, 2021 @ 9:00 am

-

11:00 am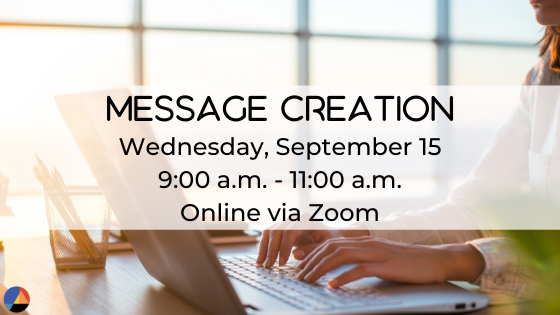 Message creation is all about finding the perfect words cultivating a distinctive tone that feels like you, your brand, or your organization. It's about staying true to yourself and your story while ensuring that your voice is heard by the people who need to hear it.
This seminar discusses harnessing your unique voice, understanding your ideal audience, and creating messages that captivate, educate, and move them. Then, we translate that voice into writing articles, blog posts, website copy, speeches, podcasts, or courses. The goal is to create clear messages that people understand, remember, and connect to.
In this course you will learn how to:
Identify your brand's voice and its attributes
Effectively write messaging that connects to your ideal audience
Strategically write copy (for blog posts, email campaigns, social media captions, websites, podcasts, speeches, elevator pitches, and more) that converts leads into clients and revenue
Program Level: Novice to mid-level marketing experience
Prerequisites: None
Instructional Method: Online via Zoom
 Cost: $65 members/$115 non-members
________________________________________________________________
ABOUT THE INSTRUCTOR
Liz Navarro
Liz Navarro is an educator, communications professional, writer, content creator, and founder of Liz Navarro + Co. She specializes in empowering people to find their voices, amplify them, and put their ideas in front of the people who need to hear them.
Liz works with people who have a message to share and helps them to fine-tune it in a way that is authentic, engaging, and activates new opportunities for them. She loves to give great people, great ideas, and great companies a platform. After working together, the biggest compliment clients and students can give her is, "Liz, that is exactly what I wanted to say, I just wasn't sure how to say it."
In addition to founding Liz Navarro + Co, Liz has worked as a communications and public speaking professor, high school English teacher, marketer, and communications assistant for organizations like Southern Methodist University and Pepperdine University, bon appetit and W magazines, and TOMS shoes.
Liz comes to Dallas by way of California (most recently) and Idaho (her home state). She lives here now with her husband Alex and daughter Lucy. Her work is featured at TEDx, Dallas Doing Good, Good Sophist, the Belo Media Group blog, and the Wonderfully Made podcast.
Find out more about Liz, her work, and how she serves her students and clients on her website: liznavarroco.com.