ATTENTION – Due to current CDC recommendations regarding COVID-19, CNM has put our public seminars and certificate programs on hold for April. We will miss engaging with you in learning about important nonprofit topics, but we know it is in the best interest of the health and well-being of our community to forgo these programs at this time. In the meantime, please check out our May and June courses. Registration is open. We look forward to being together with you again later this spring!  
Members, make sure you enter coupon code and click on apply coupon to get your discount.
Contact expert@thecnm.org for the code if you don't know it!

Making the Ask: Major Donor Motivations and Navigating the Discovery, Cultivation and Solicitation Process
May 28 @ 9:00 am

-

12:00 pm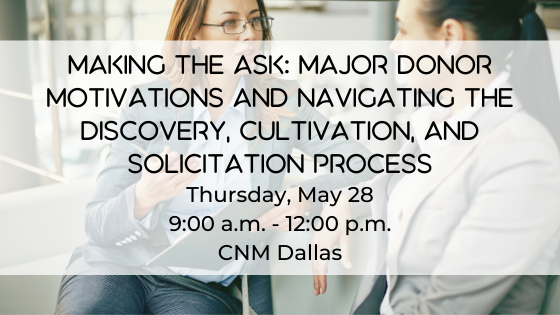 How do major donors think about philanthropy? Understanding their motivations – or philanthropic "faces" – is crucial to making a successful ask. This course will examine the "Seven Faces of Philanthropy" for an in-depth understanding of major donor motivations and then explore asking for a gift using donor-centric discovery, cultivation and asking processes.
This session offers practical advice to build relationships with major donors and can be used as a teaching tool for organizational leadership.
Learning objectives:
Understanding major donor motivations
How to promote your organization
Donor-centric mechanics of getting the meeting and asking for the gift
Course Outline:
I. Major donor motivations
II. Donor centric set up and preparation for a donor/prospect meeting
III. Making the ask and what comes next
Program Level: Advanced fund development experience
Prerequisites: None
Instructional Method: Adult In-person classroom
Social Worker CEU Credits: 3 hours
Cost: $65 members/$115 non-members
Please note: Registration closes two days prior to the class date.
Registrations are subject to approval.
ABOUT THE INSTRUCTOR
Michelle Buchanan, CFRE
Two words come to mind to describe Michelle's counseling style – determination and results! Well actually, three words – the third is fun! While taking the work of fundraising seriously, Michelle doesn't make the work of planning, campaigning and mentoring anything but an enjoyable experience. When in a tough spot, Michelle will settle for nothing short of success and the celebrationthat follows achieving a goal. Her goal is to make others better – to strengthen the skills and results of those with whom she works.
Building strong, trusted relationships was one of the secrets to Michelle's success as a development professional and major gift officer. Michelle began her fundraising career at the Wesley Community Center, eventually serving at the University of Houston's main campus. Before joining Dini Spheris, Michelle was a leader among the major gift solicitors at The University of Texas M. D. Anderson Cancer Center. There, Michelle managed an annual portfolio of over 150 individuals – many of whom she would come to regard as personal friends.
At Dini Spheris, Michelle has served as team leader on numerous projects. Those projects include building a centralized philanthropy program for St. Louis' Mercy Health system, which spans four states and 32 hospitals, as well as working with Medical Center Hospital in Odessa, Texas, to create the first-ever major gift foundation. A graduate of Texas Tech University, Michelle is often heard speaking at major professional conferences in nonprofit, educational and healthcare philanthropy.
Related Events