ATTENTION – Due to current CDC recommendations regarding COVID-19, CNM has put our public seminars and certificate programs on hold for April. We will miss engaging with you in learning about important nonprofit topics, but we know it is in the best interest of the health and well-being of our community to forgo these programs at this time. In the meantime, please check out our May and June courses. Registration is open. We look forward to being together with you again later this spring!  
Members, make sure you enter coupon code and click on apply coupon to get your discount.
Contact expert@thecnm.org for the code if you don't know it!

Creating Logic Models, Goals, and Indicators
May 21 @ 9:00 am

-

12:00 pm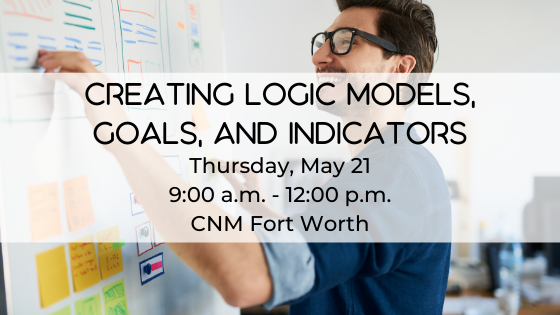 A logic model is a visual representation of how a results-based program is designed to work. Many evaluation experts agree that the use of the logic model is an effective way to ensure program success, as it helps organize and systematize program planning, evaluation, and improvement. A logic model outlines the resources needed to run a program, the activities and products being delivered, and the changes in participants' lives that are expected to occur as a result of participating in the program. A logic model clearly outlines program goals—general statements about what an organization intends to accomplish, as related to program activities and participant outcomes—and their corresponding indicators, which are the specific ways to measure progress toward program goals. In this seminar, we will share information that will help you learn how to create and update your own logic model, and identify appropriate goals and indicators for your program.
Learning Objectives:
Students who attend this seminar will be able to:
Create, update, and successfully utilize a logic model
Set meaningful program goals
Develop powerful indicators to measure progress toward goals
Course Outline:
Defining logic models
Using logic models
Logic model components
Creating and updating a logic model
Types of goals
Setting meaningful and useful goals
Components of an indicator
Developing SMART indicators for a program
Benchmarking
Baselines
Program Level: Basic
Prerequisites: None, no advanced preparation required
Instructional Method: Adult In-person classroom
Social Worker CEU Credits: 3 hours
Cost: $65 member / $115 non-member
Please note: Registration closes two days prior to the class.
All registrations are subject for approval.
________________________________________________________________
ABOUT THE INSTRUCTOR
Guillermo Villalobos
Guillermo Villalobos has over 8 years of experience leading research projects at the University level, and over 3 years of experience in research and evaluation work with non-profit organizations and government agencies. He is experienced in study design, quantitative and qualitative research methods, tool development, data collection and management, report writing, and presenting results to experts and the general public. He has also published in peer-reviewed and other professional journals, and has presented his research at professional conferences. Mr. Villalobos is a member of the American Evaluation Association and the Society for the Psychological Study of Social Issues. Mr. Villalobos holds a Master of Arts in General-Experimental Psychology from California State University, San Bernardino as well as a Bachelor of Arts in Psychology from University of California, Riverside. He is currently completing his Doctor of Philosophy degree in Interdisciplinary Social Psychology at University of Nevada, Reno.
Related Events