ATTENTION – Members, make sure you enter your discount code and click "Apply" to activate the discount. CNM does not refund the difference if the discount code is not applied at the time of transaction. Contact expert@thecnm.org for the code if you do not know it!

Integrated Planned Giving Opportunities
September 29, 2020 @ 9:00 am

-

11:00 am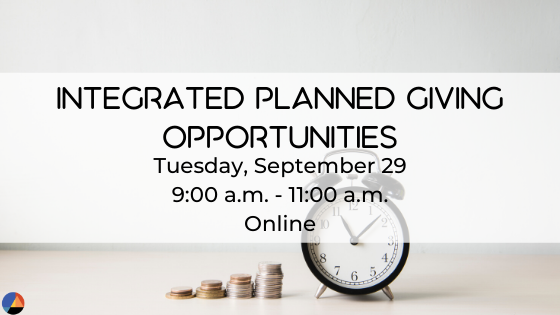 Planned giving programs are an effective way to raise money from your most loyal donors. Integrating planned giving strategies into your annual or major gift program will not only secure dollars upon the maturity of the gift, but can also open the doors to discussions for meaningful gifts during a donor's lifetime. This session will:
Outline the planned giving vehicles and explore trends such as donor-advised funds to become opportunities for your organization.

Discuss the role of a nonprofit organization with Lawyers, Financial Advisors, Accountants, and trustees.

Consider best practices for integrating planned giving into the fundraising programs and gain donor confidence.

Provide insights on how to implement these personal giving opportunities into a donor cycle and become a part of your organization's philanthropic culture.
Learning Objectives:
How to communicate planned gift opportunities and their benefits.

How to best utilize professional volunteers such as Lawyers, Financial Advisors, Accountants, and trustees in your overall effort.

Best practices for integrating planned giving into the fundraising programs and gain donor confidence.
Program Level: Basic
Prerequisites: None, no advance preparation required
Instructional Method: Online via Zoom
CFRE Credits: 2 points
Cost: $65 members / $115 non-members
Please note: Registration closes two days prior to the class. All registrations are subject for approval.
________________________________________________________________
ABOUT THE INSTRUCTOR
Brad Purcell
Driven by results, focused on process. Brad brings heart and a business approach to revenue-generation, effectiveness in programming, and to all in which he is involved. His almost two decades of experience with frontline fundraising and donor-centric approaches yield both returns and loyal supporters to organizations.
Whether it is leadership coaching, creating a strategic plan or implementing a fundraising plan, Brad's experience, insights and tenacity help clients to exceed expectations.
"Always be prepared" and "make the best better" were instilled in him as a Boy Scout and 4-H member. These words continue to guide him daily. His years as a student athlete at the University of Oklahoma cultivated the principle of hard work and a championship mentality. His bachelor's and master's degrees in business and leadership studies furthered his skills in planning, marketing and execution.
Brad and his wife Chilton dedicate their lives to the nonprofit arena and live every day knowing that each organization has different needs and expectations. Being an avid golfer, amateur chef and musical theater enthusiast are staples in Brad's life, but finding the joy and meaning in each day is what truly drives him. He believes life is a journey back to God and the impact you make is your gift to Him!
Michelle Buchanan
Two words come to mind to describe Michelle's counseling style – determination and results! Well actually, three words – the third is fun! While taking the work of fundraising seriously, Michelle doesn't make the work of planning, campaigning and mentoring anything but an enjoyable experience. When in a tough spot, Michelle will settle for nothing short of success and the celebration that follows achieving a goal. Her goal is to make others better – to strengthen the skills and results of those with whom she works.
Building strong, trusted relationships was one of the secrets to Michelle's success as a development professional and major gift officer. Michelle began her fundraising career at the Wesley Community Center, eventually serving at the University of Houston's main campus. Before joining Dini Spheris, Michelle was a leader among the major gift solicitors at The University of Texas M. D. Anderson Cancer Center. There, Michelle managed an annual portfolio of over 150 individuals – many of whom she would come to regard as personal friends.
At Dini Spheris, Michelle has served as team leader on numerous projects. Those projects include building a centralized philanthropy program for St. Louis' Mercy Health system, which spans four states and 32 hospitals, as well as working with Medical Center Hospital in Odessa, Texas, to create the first-ever major gift foundation. A graduate of Texas Tech University, Michelle is often heard speaking at major professional conferences in nonprofit, educational and healthcare philanthropy.
Related Events