ATTENTION – Members, make sure you enter your discount code and click "Apply" to activate the discount. CNM does not refund the difference if the discount code is not applied at the time of transaction. Contact expert@thecnm.org for the code if you do not know it!

How to Know if You Measure Up – 10 Steps to Effective Outcome Evaluation for Volunteer Managers
May 25 @ 1:00 pm

-

3:00 pm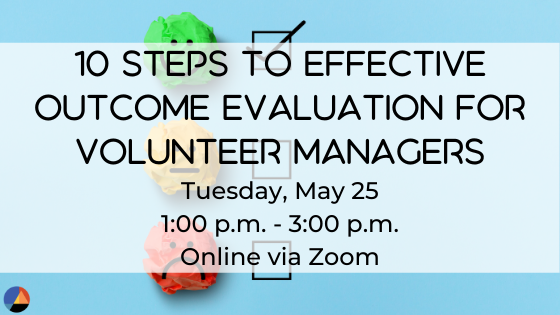 Evaluation has always been an essential element of effective volunteer administration. However, volunteer managers often feel they do not have the time, expertise, or resources to conduct a systematic evaluation of all aspects of their volunteer program.
When considering the evaluation process, many volunteer managers conjure up images of complicated formulas, expensive survey programs and elaborate questionnaires. However, a thorough evaluation of your volunteer program does not have to be intimidating and even has its advantages as well.
In this session, in addition to learning a ten-step procedure for effective outcome evaluation of your volunteer program, we will also review the merits of conducting an annual appraisal of your volunteer program, who should be included in your assessment, and how to determine if your program is truly effective.
In this session, you will learn:
How to use outcome evaluation to demonstrate the value of your volunteer program
How utilizing volunteer program evaluation can enhance the credibility of your program
The elements of developing an outcome measurement tool that may be applied easily and effectively on an annual basis
Program Level: Intermediate/Advanced
Prerequisites: Knowledge of basic volunteer management
Instructional Method: Online via Zoom
Cost: $65 Member; $115 Non-member
Please Note: Registration closes at 12 noon on the day prior to the class date. Registrations are subject to approval.

_____________________________________________________________________
ABOUT THE INSTRUCTOR
Mary Beth Harrington, CVA
For over 25 years, Mary Beth Harrington has been one of the Texas nonprofit sectors most passionate supporters.  Her career path is unique, as she has not focused on one particular sector.  Rather, she has worked with all nonprofits from Aids to Zoos and everything in between; usually providing training most notably as Director of Curriculum & Development at the San Antonio Area Foundation, Director of Agency Relations at the Volunteer Center of North Texas, and as Director of Community Outreach at the Texas Association of Nonprofit Organizations (TANO).
Harrington's presentations are based on the knowledge she has gained working with hundreds of nonprofits as well as her own experiences as Executive Director at the Austin Public Library Foundation, Volunteer Coordinator at the Dallas Public Library, member of numerous nonprofit boards, and Director of Marketing at BloodCare (now Carter BloodCare) where her nonprofit career began.
A passionate expert for the nonprofit sector, Harrington averages over 20,000 miles a year crisscrossing the state articulating issues facing our nonprofit community; urging nonprofits to welcome new leadership, collaborate to be more effective, and develop their boards to be more sustainable.  A much sought after speaker, her presentations are characterized as energetic, thought provoking and content rich.  (So hang onto your seats!)
Previous to her experience in nonprofits, Harrington spent ten years in public relations and advertising promoting everything from a building implosion to psychiatric hospitals and cinnamon rolls!