Members, make sure you enter coupon code and click on apply coupon to get your discount.
Contact expert@thecnm.org for the code if you don't know it!

Content Marketing
March 11 @ 9:00 am

-

12:00 pm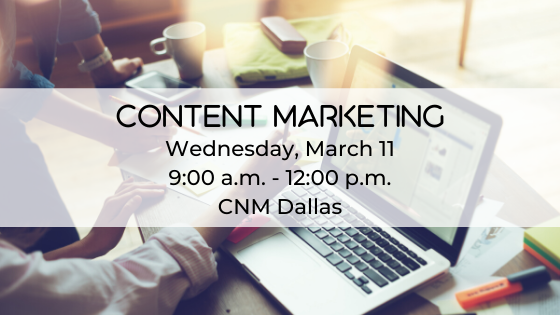 By now, you're well-aware that building your brand and promoting your organization requires posting on social media, sending emails, writing blog posts, and updating your website. But who has the time? Where do you start? What do you say?
What you really need is a plan. This seminar covers the who, what, when, where, and why of cost-efficient, time-efficient content marketing strategy. It helps you to execute an effective content campaign using the resources you already have. Learn how to build strong relationships with your existing audience by providing valuable content they can share with their friends.
 Learning Objectives:
Understand content marketing strategy
Identify the best content platforms for your brand or organization's ideal audience
Learn how to create and implement a content marketing campaign strategy and editorial calendar
Explore new, free, easy-to-use content marketing strategies, tools, and resources
 Course Outline:
What is content marketing?
Why can content marketing be effective for you?
Who is your ideal audience?
Where can you reach your ideal audience?
How do I implement a strategy?
When can you start? These strategies are within your reach right now.
What is my action plan for my organization?
Program Level: Novice to mid-level marketing experience
Prerequisites: None
Instructional Method: Adult In-person classroom
Social Worker CEU Credits: 3 hours
Cost: $65 members / $115 non-members
Please note: Registration closes two days prior to the class.
All registrations are subject for approval.
________________________________________________________________
ABOUT THE INSTRUCTOR
Liz Navarro
Liz Navarro is an educator, communications professional, writer, content creator, and founder of Liz Navarro + Co. She specializes in empowering people to find their voices, amplify them, and put their ideas in front of the people who need to hear them.
Liz works with people who have a message to share and helps them to fine-tune it in a way that is authentic, engaging, and activates new opportunities for them. She loves to give great people, great ideas, and great companies a platform. After working together, the biggest compliment clients and students can give her is, "Liz, that is exactly what I wanted to say, I just wasn't sure how to say it."
In addition to founding Liz Navarro + Co, Liz has worked as a communications and public speaking professor, high school English teacher, marketer, and communications assistant for organizations like Southern Methodist University and Pepperdine University, bon appetit and W magazines, and TOMS shoes.
Liz comes to Dallas by way of California (most recently) and Idaho (her home state). She lives here now with her husband Alex and daughter Lucy. Her work is featured at TEDx, Dallas Doing Good, Good Sophist, the Belo Media Group blog, and the Wonderfully Made podcast.
Find out more about Liz, her work, and how she serves her students and clients on her website: www.liznavarroco.com.
MA Education, Pepperdine University
BA Integrated Marketing Communications, Pepperdine University