Members, make sure you enter coupon code and click on apply coupon to get your discount.
Contact expert@thecnm.org for the code if you don't know it!

Developing the Most Powerful Tool in Fund Development: The Case Statement
March 31 @ 9:00 am

-

4:30 pm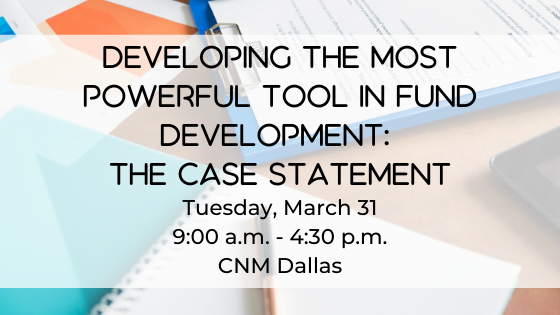 Vision, mission and values statements are essential, but are not substantive enough to compel a prospect to give.  Strategic plans are vital as well, but not compelling to read.  How, then, do we talk about our organization to prospects and donors?  How are we describing the problem our organization addresses and the impact our work creates?  What materials do we use to give donors what they really want – An in-depth picture the change their gifts will create!  How can we ensure the messages communicated by Board members and staff are consistent? And finally, how do we shape compelling messages that move our diverse constituents to action?
The Case for Support is the most powerful tool in funds development!  It is the future-oriented "A to Z" story, told in a compelling manner with client stories and statistics, of a community problem and the change to be generated as the result of an organization's work.  The Case Statement is the basis for personal solicitations, direct mail campaigns, written proposals, speeches, brochures and even communications with the media.
A compelling case statement:
Substantiates the value of the organization's mission and impact of its activities to potential board members and volunteers,
Builds synergy & "shared purpose" among board and staff,
Provides language so everyone can speak eloquently about programs,
Gives prospects and donors a clear picture of the natural state of the problem your programs impact,
Ensures organizational messages are consistent,
Generates targeted messages for diverse constituency groups and sound, compelling proposals for funding sources.
In this hands-on workshop participants craft and present their key message statements. They leave the workshop with an outline and framework for drafting a compelling case for support.  As a result, their organizations are on the way to benefiting from this powerful communications and funds development tool!
Learning objectives:
Understand the purpose and uses of the case statement
Explore the structure of the case statement
Create an outline of your case statement and present it to course participants for feedback
Program Level: All levels
Prerequisites: None, no advance preparation required
Instructional Method: Adult In-person classroom
CFRE Points: 7 points
* You'll have a one hour lunch break – food is not provided
**This class is limited to 8 organizations.  Each organization is encouraged to send two participants to this class.
Cost: $200 member / $250 non-member  (The cost covers two individuals per organization.)
Please note: Registration closes two days prior to the class.
All registrations are subject for approval.
________________________________________________________________
ABOUT THE INSTRUCTOR
Carole Rylander, CFRE
Carole inspires and engages nonprofit leadership to maximize mission impact by enhancing fund development, planning and governance practices. A frequent speaker and facilitator, she draws on more than 30 years of service in the nonprofit sector to benefit board and staff members with highly rated workshops. (For more information visit www.rylanderassociates.com)
Prior to establishing Rylander Associates in 1998, Carole was with the Greater Dallas Community of Churches where she served as senior development officer for 14 years. Before entering the nonprofit sector, she worked for eight years in the commercial and documentary film production industry in Dallas. Carole has a Bachelor of Arts degree in Oral Communications, Radio-TV-Film from Baylor University and undertook concentrated studies in Marketing and Theater.
When she is not serving clients, facilitating workshops or making presentations, Carole spends time with her husband and any of their three adult children who happen to visit. At home, Carole enjoys watching classic movies, reading and observing the birds that frequent her feeders. Around town, she enjoys musicals and concerts.
Related Events