TCU Nonprofit Executive leadership Certificate
The Nonprofit Executive Leadership Certificate Has Been Crafted for New Executives and Senior Management.
CNM and the TCU Office of Extended Education have established a new partnership to offer a Nonprofit Executive Leadership Certificate Program to develop and strengthen the leadership abilities of nonprofit executives in Fort Worth and the surrounding communities, and counties.  The goal of this program to help build the strategic capabilities of nonprofit leaders so they can confidently lead their organizations to face the challenges of an area that has seen rapid growth and development and an ever-changing shift in demographics.  The Nonprofit Executive Leadership Certificate focuses on personal leadership development in an environment that allows you to collaborate and learn with your peers.
The Nonprofit Leadership Certificate program is ideal for candidates who meet the following criteria: participants should have five years of experience in the nonprofit sector, five years of management experience, be an aspiring executive leader who is currently in a senior management position and/or a first-time or new Executive Director/CEO.
Some key elements of the program include:
Leading with Authenticity
Talent Development and Succession Planning
Board Leadership, Governance, Ethics and Financial Transparency
Strategic Leadership
Change Management
Leadership in Action 
TCU Dee J. Kelly Alumni and Visitors Center
2820 Stadium Drive
Fort Worth, TX 76129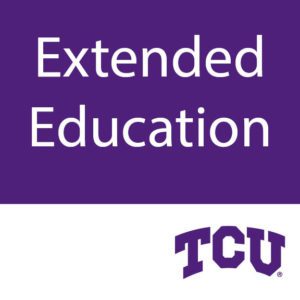 Fridays
9 a.m. – 4 p.m.
Lunch provided
Priority Rate: $900
Regular Rate: $1.000


*Priority registration rate ends September 18, 2019.
October 4, 2019

October 11, 2019

October 18, 2019

November 1, 2019

November 8, 2019

November 15, 2019